HTML5 AAC Audio Playback Tests - PC HTML5 Surround Sound Troubleshooting
Fraunhofer Institute for Integrated Circuits
These pages include HTML5 playback of HE-AAC 5.1 channel audio files or HE-AAC 5.1 audio combined with H.264 video. They should play back correctly in:
Microsoft Internet Explorer 9+(Win 7+ PC)
Google Chrome (Win 7+ PC, Mac OS, Android)
when your computer has 5.1 channel speakers connected or connects via HDMI to a 5.1 or better surround sound AVR or home theater system. If downloaded locally, the files should also play correctly in:
Microsoft Windows Media Player 12 (Win 7+ PC)
Apple QuickTime 7.7+ (Win 7+ PC or Mac)
(note that Quicktime has been deprecated on Windows)
VLC Player 2.0+ (Win 7+ PC)
If you have only stereo speakers, you will hear a stereo downmix.
Setting up surround may look complex, but it is a simple process, particularly with an Audio/Video Receiver or Home Theater in a Box system. Basically, you connect the HDMI cable from your laptop to your AVR or HTiB, make some settings, and you're hearing surround, as explained below.
Windows 7 Setup and Troubleshooting
If your browser supports HTML5 and supports AVC and AAC, you will see a player in the web page. Otherwise, you will see "Format not supported in this browser?" or a gray or black rectangle with an "X". Internet Explorer 9+, Safari (Windows), Firefox, and Chrome are the major browsers that should work. On a PC, Safari needs QuickTime installed as well. (The Safari installer usually installs both unless you specify otherwise)
Desktop PC with Gaming-style Speakers
On a desktop PC, you may connect surround speakers to the jacks on your computer's rear panel as shown below. Your PC's sound software dialog or control, or its documentation, will explain the mapping of channels to each jack.

Once connected, follow the procedure below to configure and test your system.
Living-room Mac or PC with Audio-Video Receiver and Speakers
In a living room or media PC arrangement, connect your computer to the HDMI input of your surround-capable audio/video reciever or home theater system, as shown below: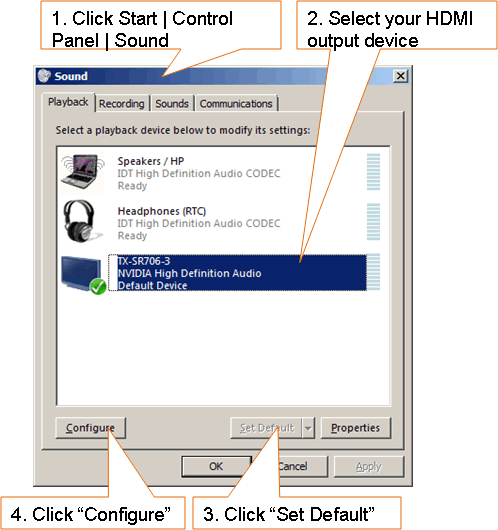 On a PC, you may need to change your default audio device (Start Menu | Control Panel | Sound | Playback tab, select your HDMI output device, push Set Default) to send the audio to your HDMI jack: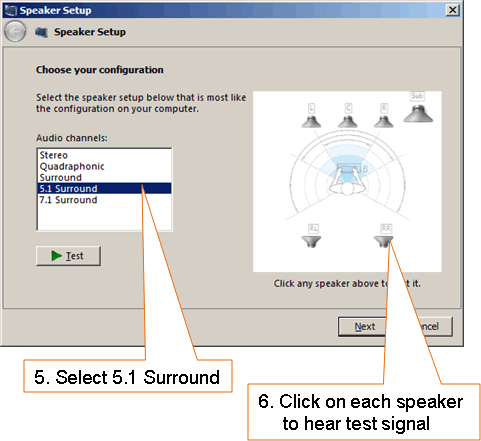 If you still hear nothing, check: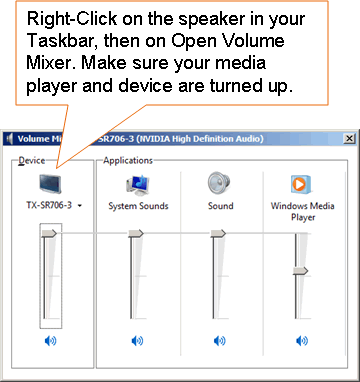 Then check: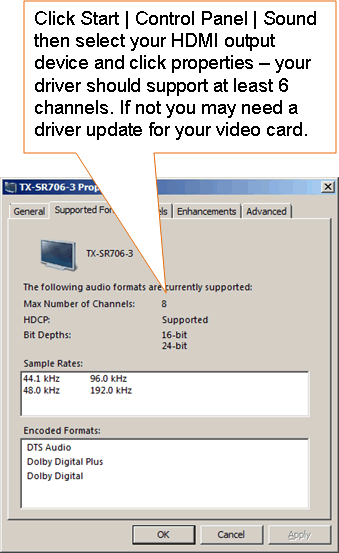 When using QuickTime or Safari on a PC, you may need to change it's default audio settings for surround output (Edit | Preferences | QuickTime Preferences) to "Windows Audio Session":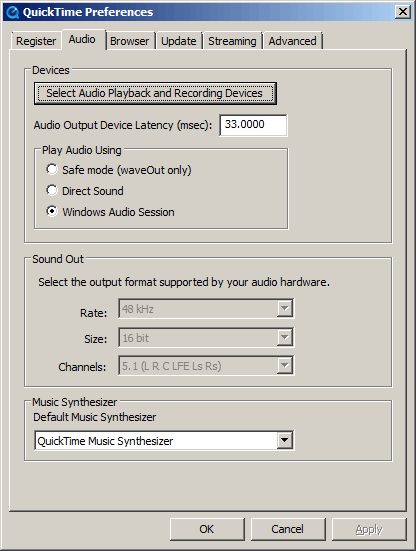 After you have correctly configured your computer and connected it to your AVR, your AVR's display should show PCM decoding of five channels plus the subwoofer:

Looking for the Windows 7 resampler test? It has been moved here.